Phone Toll Free
866 BUS SALES
---
SuperSprings® SumoSprings™ Load Enhancing, Stabilizing Coil Springs
SumoSprings are proprietary suspension products designed to enhance load carrying ability, stabilize sway and improve overall driver control and comfort.
They are available for both the front and rear of most trucks, vans and motor homes.  There are three distinct styles of SumoSprings; the MAXIM; the REBEL and the SOLO. The SumoSprings Maxim is a one-piece, homogenous unit attached both top and bottom via steel brackets. The Maxim is manufactured in a variety of heights, diameters and densities to support multiple applications.

All SumoSprings are manufactured from proprietary closed microcellular urethane which yields a combination of uniquely distinctive properties.  Specifically, the materials density, tensile strength, elongation, tear resistance, rebound, and compression characteristics have been designed to suit our applications. SumoSprings Maxims:
will compress up to 80% of their original height with full memory rebound
will stretch up to 50% of their original height when attached both top and bottom
easier initial compress allowing softer engagement; greater resistance with heavier loads = progressive load control
will never leak and cause a loss of performance
have minimal lateral expansion under load allowing for operation in confined spaces
are highly resistant to oils, salts and UV rays
will perform within temperature range of -25°F and 200°F
are 100% maintenance free
conforming to our product motto of "fit-it-and-forget-it"
are 100% manufactured in the USA
Call 1-866-287-7253 for SumoSpring Sales and Installation.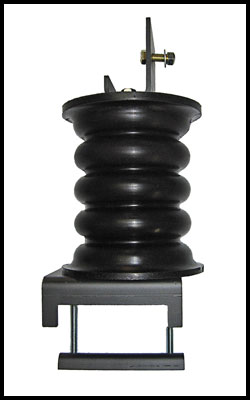 SumoSprings Maxim Front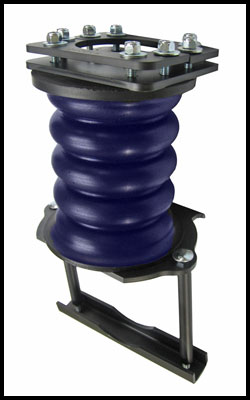 SumoSprings Maxim Rear